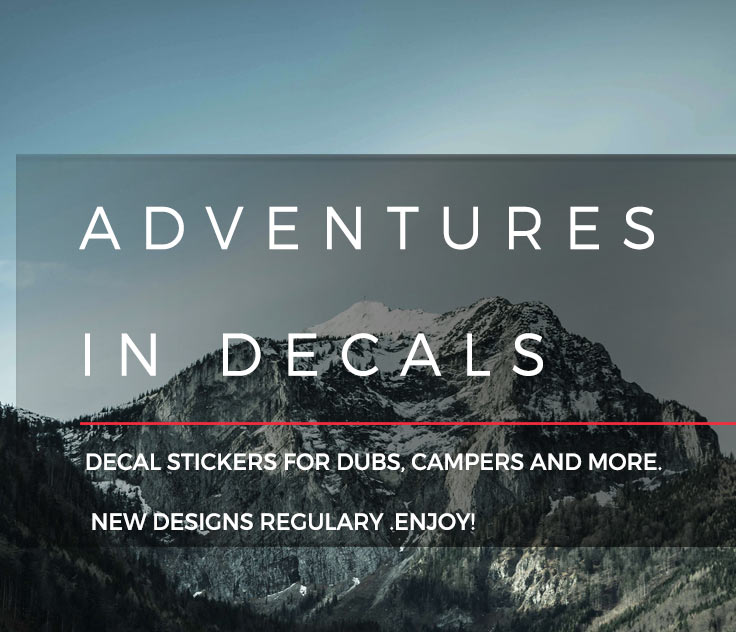 Decals Damaged in transit
In the unlikely event that your decals are in any way damaged when you receive them just let us know and we will replace straight away.
---
Change of mind
Whilst not commonplace please, please, please do not order decals, to see what they look like and then return them because you changed your mind or similar.  We are a small business and hand make each and every decal that goes out. We do not keep big decals on the shelf, as they are better freshly made. We cannot simply put them back in a box or on a shelf like normal consumer goods.  It's like making kitchens, tailoring a jacket, mixing paint – we do it to order.
(The reason is: Apart from our smaller decals, we have 21+ colours in 6 + different wheelbases and 3 types of vehicle ages. Thats 378 permeations of one design. Also the transfer tape used to hold the design together is very low tack, is binned once fitted and depreciates over time.
If you are unsure about colour required in any way including if the design will suit your camper or anything else you can think of – simply contact us first – we will help! We regularly superimpose designs for lots and lots of customers to help decide colour. We also customise to suit and of course, tweak the design to suit your taste and the graphic lines of your camper van.
However because we are human beings and want to make all of our customers happy we will accept returns within 14 days of being received providing they are in perfect condition, no attempt has been made to being fitted, are not creased, not been in left in a hot environment including direct sunlight and are not a customised decal (including special orders of vinyl) etc.
We do not mass produce decals – we lovingly create and produce designs – we do everything we can to help to choose the right design.
---
Damaged whilst fitting
We do not accept returns for goods that have been applied incorrectly either by not ahdering correctly which is caused by the paintwork not being cleaned suffiecienty of traffic film/car wax, tar spots, tree sap or that have been damaged once on the vehicle for example, through accidents or jet washing/car washing. The decal vinyl we use is 7-9 year but this does not include scuffing, scratching or bubbles left during fitting.
If you contact us we will however organise a replacement at either cost + shipping or no charge + shipping depending on the situation and / or decal. We want to help!
All decals are hand finished and checked very carefully before dispatch. If your goods have been damaged whilst in transit please contact us and arrange return within 14 days of receipt:
Please ensure you send these by a recorded service as we cannot accept liability for any returns lost in the mail.
To return an item please email us to advise . Many thanks!